It's not the most fun thing to think about, but an increasingly important part of getting your affairs in order involves figuring out what to do with all your digital assets and online accounts when you die.
And what does every account require? A password.
It's weird to think about your Facebook account existing after your death, or your family logging into your Chase Bank Account, but they will eventually have to. Centralizing and setting up easy ways to share your passwords for all of your online accounts will save your family a lot of time and stress — it's an important part of any estate plan.
Imagine having to explain to an account representative at Fidelity Investments that your father died and that's why you are going through a password recovery! Or being stressed about all of the unnecessary charges that are auto-billing while you are trying to grieve.
Fortunately, a little bit of work on your end can prevent that from happening. Plus, taking the time to set up a list of your online accounts and a good password system is a more secure choice anyway.
Here's exactly how to make sharing your passwords after death as easy as possible for your family.
How to Share Passwords After Death
Sometimes the simplest solution is best. The best way to share your passwords is to write them down on paper, store them in a fireproof box next to your other sensitive documents, and let someone you trust know how to access them.
That's the short answer. That being said, sharing your passwords is just one piece of your bigger estate planning picture. Once you understand that, then you need to starting thinking about the details.
We've created a step-by-step list below that goes through more of those details below.
1. Create a Master List of Online Accounts and Passwords
It may seem old-fashioned but there is nothing wrong with writing down all of your passwords and storing them with your other sensitive documents like your will or trusts. In fact, we highly recommend it and find many of our clients prefer it.
There are all kinds of ways to do this. You could list them out by hand, create an offline spreadsheet and print it out, use a word doc — whatever you're most comfortable with. Just don't send them in an email. That's an easy way to get all of your passwords swiped.
Admittedly making a list of all your online accounts and passwords for the first time is quite a task, but keeping it up to date is easy and your family will thank you one day.
Should I use a Password Manager?
Password managers like LastPass or 1Password generate strong passwords and store them in an online "vault" that can only be accessed via a master password and by verified users. If you have a password manager whenever you go to a website, you will receive a prompt from your password manager to create a new password or fill the password prompt with the vault-generated password associated with that site.
Since most of us are guilty of using the same few passwords for all of our accounts, this is a great way to make sure your online accounts and the passwords you use are secure. But, as great as password managers are during your lifetime they are an incomplete solution for managing those affairs after death.
Some services let you designate an emergency access person, which lets him or her request access to your password manager. Asking the person you trust the most to keep up with a password manager account for years is a burden and if he or she does not use that same password manager there are even more challenges. Plus, over the years you may want to change the person you designate to handle everything, which means you'll have to remember to change that part of your password manager in addition to your estate plan.
And even if that process goes smoothly, they will still have to login to (and potentially learn) how an additional online platform works instead of simply grabbing the list located with all of your other sensitive documents and picking what they need from it.
Again, password managers are great during your lifetime and we recommend you give them a try. But for estate planning, it's preferable to have a centralized password access solution. That solution may include having the password to access your password manager itself along with your estate documents and other important papers.
2. Set Up a Legacy Contact if You Use Facebook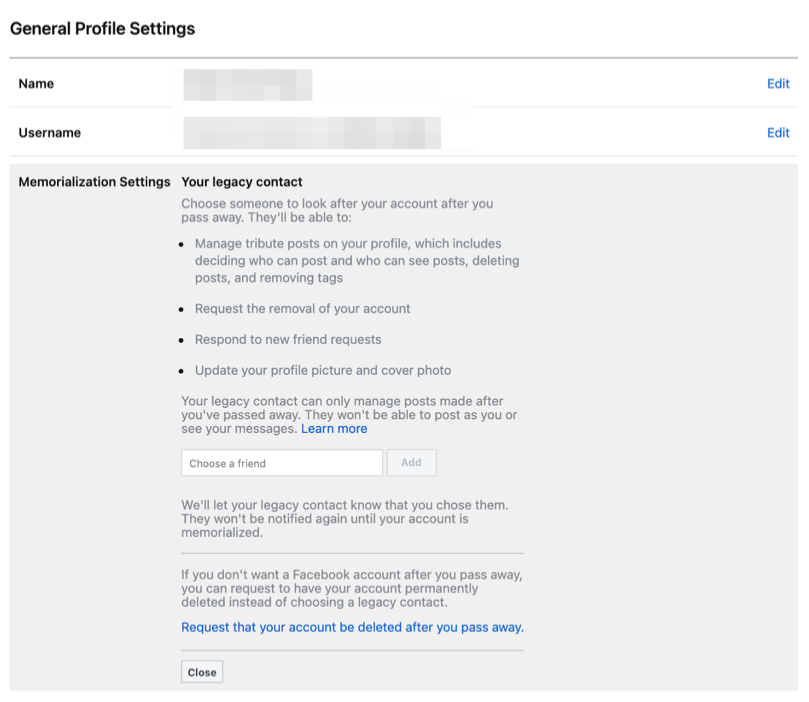 Facebook lets you designate someone to take charge of your Facebook when you pass away. This lets them post directly onto your page after you pass through their own account instead of having to login to yours. All you have to do is go to your settings, choose a friend, and you're set.
For your family and friends, your Facebook account is another way to look back on memories with you after you pass. Ensuring that your account is memorialized properly can serve as a relief for your family — those memories are preserved.
If you simply include your password in your list, the stress and worry of memories being erased is something your family will never have to worry about.
3. Designate a Trusted Contact For Your Google Account
You can do something similar with Google. If you store a lot of photos, videos, or documents in a Google Drive, one way or another you'll want to note it. Google has a built-in solution that is better than nothing. It tracks your account for inactivity, and if it notices you haven't used it for a while, it can reach out to the person you designate so he or she can download any data or assets before it deletes your account.
A challenge, however, is that if you no longer want the person you designate to access your account you have to remember to change it. You have enough things to keep track of and if you keep a master password list in one place you don't really need to designate anyone with Google.
4. Store Passwords Next to Your Other Sensitive Documents
As soon as you start organizing your passwords and thinking about what happens after you pass, you'll realize there's a lot more to it. We broke the entire process of getting your affairs in order in another blog, which you can read here, but however you decide to share your passwords, make sure it's located near other sensitive documents and that it's accessible when the time comes.
Here are just some of the other documents besides your password list you need to gather when getting your affairs in order:
Your Powers of Attorney, Will and Trust
Life Insurance Policies
Medical insurance card
Birth certificate
Social security card
Marriage certificate
Military records
Copy of your driver's license
Password list for all relevant online accounts
Vaccination records
Location of important keys and combos
Copy of your Passport
Citizenship papers/work permit
Adoption papers
Christmas card list
Divorce decree or prenuptial agreement
Tax returns
It's best practice to store these in a single, physical location and in a secure online cloud. For example, you could have a list of physical passwords and all of the documents in a fireproof box in your home and have digital copies along with your password manager password in a service like LawSafe®.
Read More: Getting Affairs in Order Before Death: A Complete Checklist
5. Share Your PINs and Devices
You should also make a list of all the devices you use (computers, tablets, phones) so your family knows they have everything. The passwords for these devices are arguably the most important ones. Two-factor authentication is when a service asks to send you a text or use an app like Google Authenticator to verify your identity, so even if someone has your passwords, not having access to your phone or computer can be a huge pain if not a permanent stumbling block.
Either set someone up with an admin profile on each and every one of your devices (and keep each of them up to date) or make sure your passwords for your devices are in one place, that is your master password list. This also lets your executor easily access Venmo, Paypal, bill pay centers, and other online accounts since most likely you will already be logged into those on your computer.
The Bottom Line on Sharing Passwords After Death
It doesn't have to be complicated.
In short, if you write out a list of all your online accounts and the related passwords and you make the people you trust the most aware of it, you should be all set.
If you use a password manager be sure to leave instructions on how to access it, and if there are any accounts not listed in the manager, put them on paper.
And lastly, be sure the password list and instructions are organized alongside your will or trust, life insurance policies, deeds, and other important documents to really help your family after you pass. Gathering passwords alone just isn't enough.
All of your passwords and sensitive documents stored in one easy and secure location
The annoying part of keeping up with your account and password organization is staying on top of your list and updating it. For that reason alone it makes more sense to use software to help. A little while ago, we noticed that with all of the incredible inventions and software available to us today, there still wasn't a great way to centralize all of the documents you need to when getting your affairs and estate in order. So we decided to build it ourselves.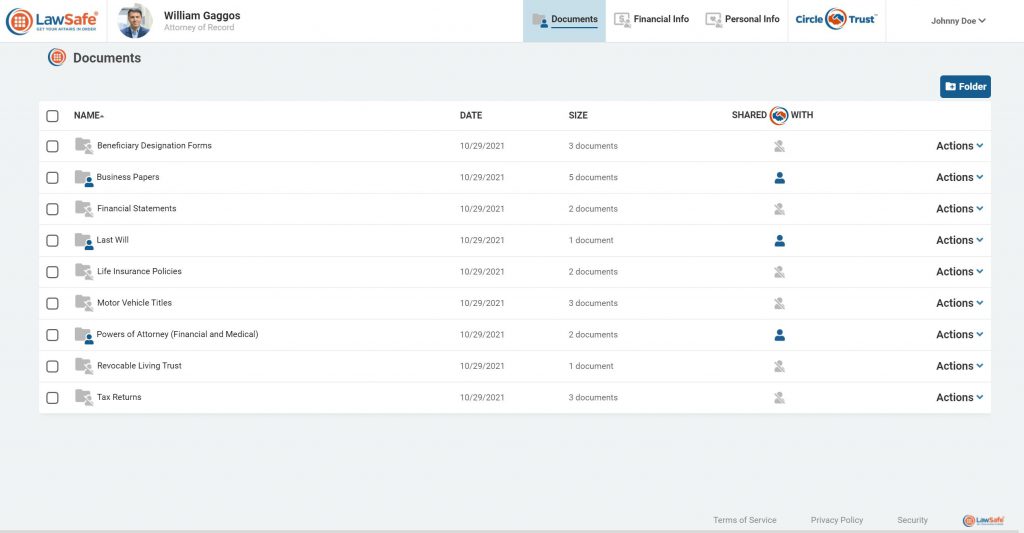 LawSafe® is a cost-effective and highly secure way to store your passwords, along with your estate planning documents like your Will, Trust and Power of Attorney. It's perfect for people who like to think ahead and save time, and here are just a few of the features:
One encrypted place for all of your relevant documents in pre-set folders with prompts from estate planning lawyers ensuring you don't forget anything.
Update, print, and share any documents in seconds.
Automatically release relevant documents and account information to your predetermined "Circle of Trust" in case of an emergency.
Set backup trusted users in case your first choice isn't available.
We're really proud of it, and you can save yourself and your family headaches by getting your affairs in order with something that is incredibly easy to use and safe.
Check it out — your family will appreciate it.